Bubble Soccer Toronto is the #1 entertainment sport in Toronto. We promise lots of bumping and even more laughter. As soon as the whistle blows, the bumping, rolling and excitement start. Once you get into the bubble, we guarantee you will want more. Prepare yourself to laugh for days after!
Bubble Soccer is for any occasion. Be it Corporate Team Building Event, Birthday Parties, Fund Raisers, League matches, or just for fun. Assemble your team and we will take care of the rest.
Bubble Soccer Toronto is the first company to bring bubble soccer game to Toronto. We stay at #1 position over the years. We have been constantly innovating quality product and improving our services over time. If you have decided to play Bubble Soccer game look no further. Bubble Soccer Toronto provides the best quality bubble soccer balls with optimal cost.
How it works
The way it works is we deliver bubble balls to the location of your choice or you can choose our our recommended locations. We deliver free in Toronto. You pay the same amount for bubble ball rental at any location closer to you. This saves you in travel costs, time and the risk of traveling to distant places especially in rush hours. For more details please go through the details on "HOW IT WORKS". section.
How do I book a Bubble Soccer Party in Toronto
Bubble Soccer Toronto – In Toronto SUN, May 22, 2016
We encourage you to go over the FAQ provided in our website. This will address many of your questions. This will also help you to organize your event better. This is an extensive list of Q & A and is prepared based on many years of our experience.
Once you have decided to book the party or require a quote, please fill out a form provided in the BOOKING PROCEDURE to get a quote or simply place and order online.
Who sets up the bubble balls at the site/venue
Our representatives set-up the bubble balls. They will also go over safety rules and game rules with the team. Our team will deflate the bubble balls at the end of the game. You just have to show up, have fun and leave the venue with good experience.
How much it cost to host a bubble soccer party
The cost will depend on the group size, the number of bubbles required, duration of play and the type of venue chosen. For further details please review RENTAL COST SECTION. You may send us an email or  simply fill out a form in the BOOKING PROCEDURE and get a quote.
Party Packages and Custom order
Bubble Soccer Toronto also offer special party packages. The most common party packages are birthday party package, Corporate event package and school event package.  You may also custom order the equipment as per your budget and how you want to structure the game. Bubble Soccer Toronto representative can assist you in structuring the game. O Simply email us at booknow@bubblesoccertoronto.ca.
Bubble Soccer Toronto's  customer service can always help in structuring the game depending on the group size and your budget.
We also announce discounts and special rates from time to time and these rates may or may not be displayed on the website. Therefore please feel free to call or chat with our customer service.
Where to play in Toronto
That said the first question that most people ask is WHERE TO PLAY  in Toronto?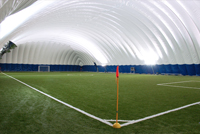 There are many options in Toronto where bubble soccer can be played. This game could be organized either outdoors in a park, a soccer field or indoors in a gymnasium or a turf field. In summer months you may choose  outdoors however during winter months you can only play indoors.
Also, the choice of the venue depends upon where you are located in Toronto. For instance, Downtown core,  Etobicoke, North York or Scarborough. Please see the section below for the recommended indoor venues in Toronto. Unfortunately there are no option in Etobicoke area but if you can travel a bit, you may like toreview Missisauga options as well. Visit the Bubble Soccer Mississauga for further details

Most of the outdoor venues in Toronto require a permit from the City. Therefore early booking is always recommended. Our company assists in getting you the permit from the City. This service is provided free of charge. Please note that the permit can only be issued to the companies that are fully insured can obtain a permit.
In order to select the type of the field, you may provide your preferred choices or we can also suggest one. Once you have selected the type and preferred location you may send us a venue location request. We will find the availability and let you know the status and also suggest you any alternate venue if the preferred venue is not available. Once you accept the choice a deposit or your CC authorization may be required to book the venue. You may download the CC authorization form and email to us.
City-owned gymnasiums and community centers
In addition to the above locations, we can also get you the permit in the gymnasiums through the City of Toronto. Please contact our Event Coordinator and we can suggest the gymnasiums where City can issue the permit. You may also check the one closer to your location directly. Once you have contacted them, call us and we will provide you the insurance certificate necessary for booking the gymnasium.
Recommended indoor soccer fields in Toronto 
DOWNTOWN CORE

Lamport Stadium
1155 King St W, Toronto, ON M6K 1E9
https://www.toronto.ca/
EAST YORK AREA

MLS SPORTS LEAGUE
641 Danforth Rd, Scarborough, ON M1K 1G1
https://mlsarena.com/
SCARBOROUGH AREA

UltraSports Centre
1510 Birchmount Road #150, Scarborough, ON M1P 2G6
http://www.ultrasports.ca/
NORTH YORK AREA

The Hangers
75 Carl Hall Rd, North York, ON M3K 2B9
http://www.hangarsportevents.com/
view/thehangar

Why rent from Bubble Soccer Toronto
FULL INSURANCE COVERAGE FOR ALL PARTICIPANTS- PEACE OF MIND

Fully Insured Company: We carry $5 million general liability GL insurance and cover Participant injury and venue and equipment damage coverage
BEST QUALITY EXTRA LIGHT WEIGHT COLOUR BUBBLES – FREE DELIVERY

Best Quality bubble balls and very lightweight to play and enjoy and we deliver free to most location
in Toronto
FREE SERVICE TO OBTAIN OUTDOOR VENUE PERMIT FROM THE CITY

You do not have a venue – no problem, we obtain the permit from the City on your behalf or provide you options for the venue where exist
COME PLAY AND GO. WORRY FREE SET-UP AND TEAR-DOWN

Our team set-up the game and tear down at the end of the game. you just have to show up at the location of your choice, play and go