Canada Party Crew is the very first leading company that brought this hilarious bubble soccer game to Toronto in April 2013.
Organize your corporate events, team building events, school events, birthday parties, fund raisers, league matches, inter-departmental or inter-company entertainment with a spark of bubble soccer. This is a great way to start your party at any occasion or simply just for fun.
We provide Bubble Soccer at a very competitive and reasonable price with exceptional customer service. We are FULLY INSURED and provide participant coverage as well.
About Bubble Soccer
Bubble Soccer originally started with the name of Zorb Football and was created by Henry Elvestad and Johan Golden in Norway. It got attention on their TV show, Golden Goal and reached out to the UK by British entrepreneur Lee Moseley. The idea was initially rejected as people thought the activity was not going to get a good turnout. He was not put off by it and went ahead to invest in it himself. However, it received a very positive outcome and people absolutely love the game due to the freedom of playing in bubbles and it is not age restricted either. By late 2013 early 2014 – it made its way to North America with a lot of popularity.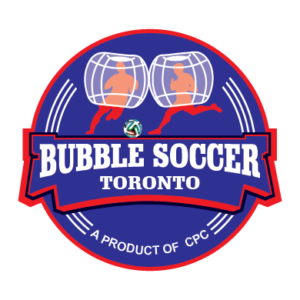 This game is popular with various names like Bubble Soccer, Bubble Ball Soccer, Bumper Ball, Zorb Football or Bubble Football – no matter what you call it, this crazy full of fun game is spreading like rapid fire in Toronto. The game and rules are simple and easy to follow – You just play like regular soccer except that a large an inflatable big bubble is covering you all over leaving the legs open to hit the ball. You can smash into other players and find yourself literally rolling away, bouncing and laughing out loud with the rest of the team. While protected in your inflatable Bubble, you will try to score goals. You will play in a designated and marked area. Apart from the standard rules, bumping, bouncing, rolling, flipping over and smashing into other players are tactical parts of the game and are actually encouraged. The fun part about it is that you can be creative with it.