Bubble Soccer Birthday Parties
Bubble soccer is a brilliant birthday party idea that is rated as a hot attraction for all kinds of Bubble Soccer birthday parties and is certainly a guaranteed a good time. It is suitable for both kids (at least 8-9 yrs of age) and adults. If you are looking to plan something different and extraordinary, bubble soccer is the game to add. This is an exciting game to play and is just plain hilarious – viewers have a fun time watching player's bump and bounce for the football.
We make it easy to organize the event for you:
You can organize this game for a small group as well as large groups. You just need a minimum of 8 players to play – your first step is to organize as to how many participants you will be having, whether you would like to play indoors or outdoors, what areas work for everyone in your group to play at and whether you want to book your own venue or need help on that, what extra items you will need, etc. If you need any help in organizing your birthday event and need help figuring out how many bubble balls to rent – you can definitely contact our event coordinator at booknow@bubblesoccertoronto.ca.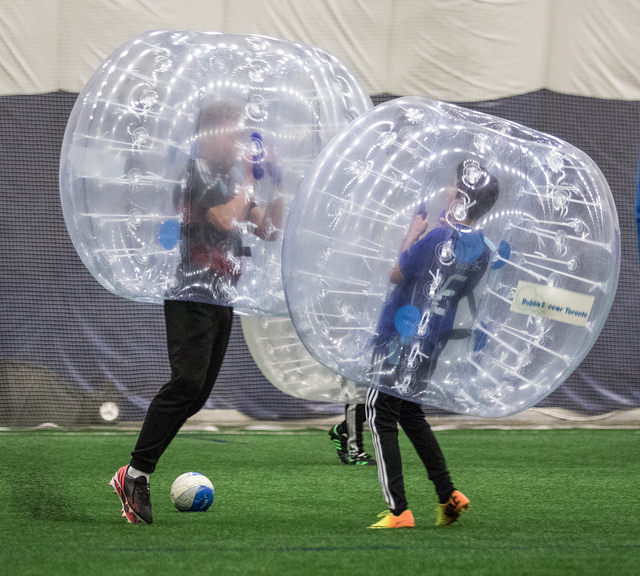 Bubble Soccer is completely safe. This is not an injury causing sport by any means but just like any other sport – it is important to be safe while playing and to avoid any moves of actions that can implement an injury. Shin/Knee guards are not a necessity but if you feel safer in them, we do recommend to our customers that it does not harm to wear them if you have them.
Safety and insurance:
Bubble Soccer Toronto is fully insured and we send out trained representatives to help set up, provide safety instructions and game guidelines, explain how to play and come in and out of the bubble, etc. Your responsibility is just to arrive 30 mins before the start of the game so our representatives can start setting you up in order to save time.
Rental costs and discounts
Bubble Soccer Toronto does offer special birthday party packages and ideas on how to lower pricing as well. We generally recommend for all names that if you have, for example, 20 people then you can rent out 10-12 bubbles to do two games of either 5 vs. 5 or 6 vs. 6. We provide packages based on groups. We also offer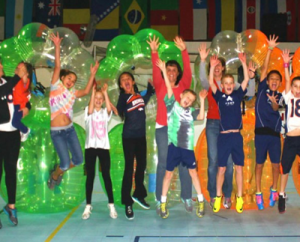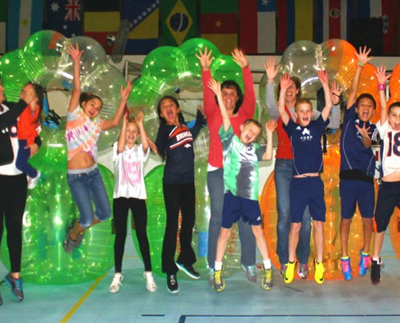 special discount rates from time to time.
Please give us a call at 647-657-6090 or our Toll-Free at 1-866-5-SOCCER or email us at booknow@bubblesoccertoronto.ca so we could create a custom package for you. We also have monthly promotions that we could offer from time to time.
Venue and where to play
Bubble Soccer Toronto works with several sports facilities and community center gymnasiums to help you book a venue if you don't have a sports facility that you want to rent yourself.
Additional equipment:
We also offer sports equipment rentals for our bubble soccer products and party equipment rentals if needed. Please note there aren't specifically any types of bubble soccer shoes and cleats are definitely not recommended due to how this game is played, so any regular running shoes/gym shoes will be fine. There is also no specific type of bubble soccer shorts, shirts or specific attire but comfortable clothes that you would wear to play regular soccer are advised. We also offer bubble soccer whistles, referee flags, pinnies, goal posts or any other soccer equipment required.
Please select the "Get a Quote button" for more details on bubble soccer rental cost and bubble soccer birthday party packages.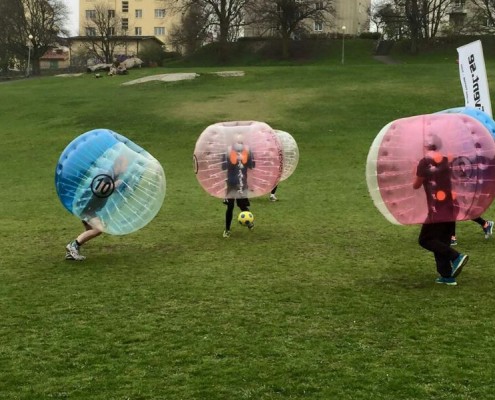 BUBBLE SOCCER TORONTO AS SEEN IN